Check out the Webstore:http://www.farmigo.com/store/beneficialfarm
Here is what we are planning for your Beneficial CSA Share for Thursday October 8th, 2015
Bell Peppers from Preferred Produce
Daikon Radishes W/Top from Talon de Gato
Escarole from Talon de Gato
Arugula from Talon de Gato
Armenian Cucumbers from Sol y Tierra
Summer Squash from Sol y Tierra
Double Red Apples from Jubilee Farm
Update from Last week:
We had a large chunk of our expected Southern produce order not come in last week, affecting a few special orders and the shares. This is one of the last weeks of our large pepper and eggplant varieties from the South.
We are wrapping up summer production at Mesa Top, the squash are done for the year, and we have only another week or two of cucumbers. The winter squash are starting to be harvested, but we have to cure them a bit before they start making their way into member shares.
Member, Please email you holds and Substitutions in a separate email to us, so it is not lost in a hidden chain!!
Farmers and Share Updates
We are going to try out the bread in shares in a few weeks; it just fell by the wayside of other awesome produce.
Other new product this week:
Rose Veal, from the Mesa Top family herd!
We have veal packs, as well as individual cuts available on the marketplace.
What is New Mexico Rose Veal?   
It's a more natural and wholesome way to eat veal.
The local foods/sustainability movement of the twenty first century has helped revive traditional small farm retro agriculture of keeping calves with their mother.
Dairy cows need to have babies in order to produce milk. The ratio of males to females born is approximate 50%. That means a dairy farm milking 50 cows can produce around 25 calves a year. Traditionally, male offspring of pastured dairy cows were left with their mothers until forage became scarce in the fall when they would be harvested, their meat being a light rose color and flavorful thanks to their access to green grass.
Raising veal right.
It wasn't until a few years ago some farmers returned to this old-fashioned method of putting calves out to pasture with their mothers.  Local and organic farmers recognize that veal calves are part of the ecological, ethical and economic balance honor.
A young calve:
Stays with cow after birth.
Grazes on pasture all their life.
Naturally nursed with colostrum.
Bought from local family farms at a fair price.
Never injected with hormones or antibiotics.
Raised outside in small groups with lots of   grass & sunshine
Processed locally.
Flavor
If you consume dairy products, especially artisan cheese and milk from small family dairy's–even wonderful handcrafted ice cream–you will enjoy eating Rose Veal.
Taste
Rose Veal is an extremely tender, lean, and low in fat.  It provides a terrific alternative to beef or lamb for those looking to reduce their fat intake and reap the benefits of a healthy iron intake.
Needs some recipe ideas?
*We are getting better at making changes to member's share when there dietary preferences that you let us know about. If you see something in the share that you can't have, or absolutely hate, send us an email and we can find a substitute, but remember that half the fun of the CSA is trying something new.
Home Delivery
We offer home delivery for a $10 charge, and any member who orders $50 or more will receive free deliver in the form of a credit, provided it's not really out of route. One of the benefits of home delivery is that even if you're not home when we come by, you can leave a cooler out for us to put your share in to keep it chilled. If you are interested in switching to Home delivery, email or call us.
Coming soon: ?? What's next?
Keep passing along your input on marketplace offerings, Steve and Thomas have a few more contacts we are looking into.
EBT!
 Any members interested in purchasing farm share with their EBT, please email us as shares@beneficialfarm.com
Farm and Marketplace News: 
Fall Sourcing: We are starting to see more Southern farms producing, but we will have some Northern farms in the mix to ensure a full balance.
More about the food…
News and specials on the marketplace:
We are starting to get into our Fall crops, which will make having an accurate marketplace and regular share list more reliable. Occasionally, a product comes in that isn't up to our standards for distribution, or is shorted by the farm, so contact us via email for credits/issues.
Leeks: on the marketplace
Daikon Radishes: In your share and on the marketplace
Cantaloupe: on the marketplace
Arugula: In your share and on the marketplace
Eggplant: on the marketplace
Green and Red Cabbage: on the marketplace
Apples: Double Red from Jubilee In your share and on the marketplace
Roasted, Cleaned Org Green Chili: on the marketplace
Sweet Corn: the marketplace
Cucumbers: Armenian and regular cukes on the marketplace
Carrots: On the marketplace
Summer Squash: Zucchini, Patty Pan and yellow squash from MT on the marketplace
Tomatoes:  Grapes and clusters are on the marketplace
Musaengchae (Spicy Korean Radish Salad)
Ingredients:
1 pound mu (Korean radish)
1 teaspoon salt
2 scallions, finely chopped
2 – 3 tablespoons Korean red chili pepper flakes, gochugaru (adjust to taste)
2 teaspoons minced garlic
1 teaspoon fish sauce, myulchi jeot
1 teaspoon salted shrimp, saewu jeot (just use more fish sauce if unavailable)
1 teaspoon sesame seeds
1/2 teaspoon sugar (adjust to taste)
Clean the radish by scrubbing with a brush and/or scratching off the stubborn impurities with a small knife. Peel the skin only if necessary. Cut into match sticks (about 1/8 to 1/4-inch thick).
Sprinkle the salt over the radish and toss well to coat evenly. Let sit for 15 to 20 minutes until the radish sticks have softened and released some liquid. Drain (or gently squeeze out) excess liquid. Do not rinse. Add all the remaining ingredients. Mix well by hand. Taste and add more salted shrimp or fish sauce if necessary.
Armenian Cucumber Salad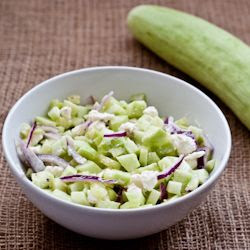 1 Armenian Cucumber
¼ cup Red Onions
½ TBSP Olive Oil
½ TBSP Red Wine Vinegar
¼ Cup Feta or Bulgarian Cheese
Mu Namul (Korean Radish Namul)
Ingredients:
1 pound Korean radish (mu/moo)
1 tablespoon vegetable oil
2 teaspoons soup soy sauce (optional)
salt to taste (start with 1/4 teaspoon, if using soup soy sauce, otherwise 1/2 teaspoon)
1 teaspoon minced garlic
1 scallion, finely chopped
2 teaspoons sesame oil
1/2 teaspoon sesame seeds
Clean the radish. Peel the skin if necessary. You don't need to peel if the skin is smooth and clean. Cut the radish into match sticks (use a mandoline if available).
Heat a large skillet with a tablespoon of oil over medium heat. Add the radish sticks with the optional soup soy sauce, salt, and garlic and cook for 4 – 5 minutes, stirring well, until the radish sticks become wilted and translucent.
Add 1/4 cup of water. Reduce the heat to medium low, cover, and cook for an additional 3 – 4 minutes, until it reaches the desired level of softness. Taste and adjust seasoning and/or cooking time as needed.  Right before turning off the heat, add the chopped scallion, sesame oil, and sesame seeds, and stir well. Serve warm.
From the Mesa Top: October 8th, 2015
Can it possibly be October?  Is anyone thinking about firewood?  Mesa Top is thinning its forest.  We remove the firewood after it has cured, and split and sell, ½ chord minimum.  Please email stevew@plateautel.net if you are interested
Climatology 2015: A very humid and wet pattern has held sway for several days and is projected to continue for several more.  A couple of cloudy days is all it takes for humans to turn cranky around these parts.   The moisture has been welcome.  More would be as well, as we look to the next few days with anticipation.
The high humidity has moderated the daytime and night time temps:  days have been cooler and nights have been warmer, so still no frost at Mesa Top.
From the Wild: Pinon harvest continues in high gear.  Families along the county road, and now venturing along  the neighboring dead end private roads, looking for the best trees and gathering plentiful pinon from the ground below.
A dozen ducks now on the Mesa Top Reservoir.  And the first crane sighting:  a sand hill, flapping its huge wings and gliding across the sky
A lot of fresh deer droppings and prints, too.
Cow stories: "You can't make this stuff up": Moving Day, or should I say moving week, as about 3 dozen bovines aged 1 month to 18 years all moved from our northern state lease section back to the home pastures.  We hope to find one last nearby pasture for a 6-8 week stay, but for now we have to keep them close to home.  They have finished up the grazing of the north lease, and were starting to break down fences to get to pasture on surrounding properties.
The only scary moment was when Steve was rounding up the second group and there were a group of cows hanging out at the furthest place on the lease.  When he approached them he saw that Dottie, one of our dearest "middle aged" cow, was down and seemed to be struggling to keep herself upright and to push herself up onto her feet.  Of course she was as far away from help as possible.  The best way to get a down cow up on her feet is to scare her so she gets an adrenaline rush and some extra strength.  That is kind of difficult with our cows, which are handled so carefully and fully trust us.  Perhaps all he managed to do was to annoy Dottie, but she did get up and start walking.  She stumbled a bit getting started, and was pretty tentative, avoiding the other cows.  Even so, she made the walk home to water and fresh pasture…
All told the herd walked home, down a couple of miles of Arroyo Salado in 4 groups, ranging from 15 to 3, finishing up on Sunday in the rain mist and fog.
Steve had grown tired of hauling water for the herd, and we do have water sources at the nearby pastures that can be delivered by pipe and pump.
We also received finally our 3200 foot roll of 2 inch HDPE pipe, to lay in some new water lines which will help us connect the main well with the spring and the main
Beneficial birds Reminder: If you haven't reserved a thanksgiving turkey, please consider Mesa Top field and grass and pasture and bug fed turkeys.  The only feed they get as supplement is Embudo Valley organic feed.
Cheese making update:  . Milk volume was picking up.  We will keep you posted on the beginning of cheesemaking.
Thank you for your investment in family farmed, local and regional agriculture.  We appreciate your support as we work to improve the CSA as a vital element of our local and regional food system!
Our farms and farmers thank you for your support,
The Warshawer/Swendson/Agard Family
Beneficial Farm CSA